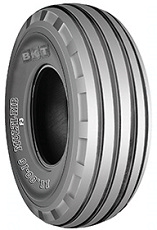 Wheel not included
Orders placed online usually ships within 24 hours
Product Description
An Extremely Good Choice with the BKT Multi-Rib Lawn and Garden Tire
With quality and affordability leading the way, BKT's Multi-Rib Turf Tire is a great choice for the front tire of your riding lawnmower. The BKT Ribbed Tire is also used in many specialty tire applications, including riding mowers, lawn tractors, garden tractors, and utility carts. The ribbed surface creates an easy-rolling traction with excellent handling and extremely low turf damage.
Affordability and a Smooth Ride with the BKT Multi-Rib Tire
The BKT Multi-Rib Mower Tire's non-aggressive ribbed tread pattern and round shoulders make it a perfect fit for use in grass-mowing or riding applications where minimal impact is essential. Multi-Rib Tires are commonly found in use on golf course lawn mowers, sports field utility carts, and in other turf applications. The BKT brand prides itself on offering quality that's on-par with the leading manufacturers at a sliver of the price.
Wheel not included
Sizes available: Golf Cart Tires Golf Cart Tire Small Tractor Tires Small Tractor Tire Farm Implement Tires Farm Implement Tire Riding Lawn Mower Tires Riding Lawn Mower Tire BKT 13x5.00-6 135006 135.006 13x500-6 15x6.00-6 156006 156.006 15x600-6 16x6.50-8 166508 166.508 16x650-8 20x10.00-10 20100010 2010.0010 20x1000-10 15x6.00-6 156006 156.006 15x600-6