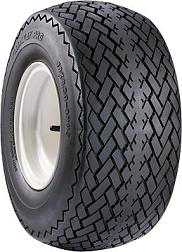 Wheel not included
Orders placed online usually ships within 24 hours
Product Description
Great Price with the Carlisle Fairway Pro 18x8.50-8
The Carlisle Fairway Pro golf cart tire is a durable entry-level golf car tire that is an economical replacement tire for golf carts, utility vehicles, and riding mowers. With sawtooth tread to minimize compaction and uneven wear and tear, the Fairway Pro 18x8.50-8 gives your Club Car, EZ-Go, or Yamaha golf cart a quiet ride without marking the fairway on golf courses, park grass, or cemetery applications. This tire also rides smoothly on paved cart paths, and can be used for on-site transport and utility vehicles.
The Carlisle Fairway Pro will replace OE
Owners of utility vehicles and mowers built by John Deere, Toro and Simplex that require a sawtooth tread pattern will find the Carlisle Fairway Pro an excellent, less expensive alternative to the original tires on their carts or mowers. Get the same smooth ride coupled with durability and toughness, as well as nice touch on the greens!

This tire is bias-ply, tubeless and is not approved for highway use.
Carlisle Dependability, Durability, and Uniqueness
Carlisle is a strong American company that is the largest producer of specialty tires in the USA. Most of their products are also produced in the USA, making them a great domestic choice. Simple put, Carlisle means quality. You can't go wrong when you choose a Carlisle for your lawn mower!

Wheel not included