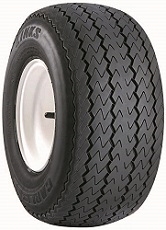 Wheel not included
Orders placed online usually ships within 24 hours
Product Description
Get Top Shelf with the Carlisle Links 18x8.50-8 (6 Ply) Golf Cart Tire
A great tire can be determined by its use in the industry. When it comes to golf carts, you'll find the Carlisle Links as original equipment on many models, namely those by Yamaha, EZ Go, and Club Car among others. That said, choose Carlisle Links for your golf carts and utility vehicles. In addition to is use by top name brands, it sport a great design and tread style. Commonly referred to as a sawtooth or street tread, the tread ensures stability and control in any course terrain. Keep in mind that this model weighs 15% more than its Links 1 counterpart!
All in all, the Links golf car tire is a long wearing, smooth riding durable tire that is ideal with golf course utility vehicles such as the Toro Workman and vehicles built by John Deere, Kubuto and other manufacturers. This tire is bias-ply, tubeless and not approved for highway use.
Carlisle Dependability, Durability, and Uniqueness
Carlisle is a strong American company that is the largest producer of specialty tires in the USA. Most of their products are also produced in the USA, making them a great domestic choice. Simple put, Carlisle means quality. You can't go wrong when you choose a Carlisle.
Wheel not included