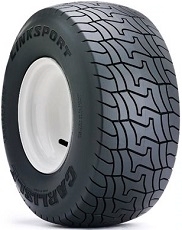 Wheel not included
Orders placed online usually ships within 24 hours
Product Description
Top of the Line Performance with the Carlisle Links Sport 18x8.50-8 Golf Cart Tire
Looking for the most advanced golf cart tire? Carlisle's newest design, the LinkSport 18x8.50-8, is the tire you're looking for. With a progressive interlocking matrix tread design, the Links Sport reduces the chances of tire marks and lowers the impact to grass surfaces to the minimum threshold. Carlisle's advanced design of the Links Sport also decreases rolling resistance, and improves weight & pressure distribution over conventional golf cart tires.
The Carlisle Links Sport Tire utilizes a unique extended wear rubber compound, which is tested for stability, traction, and durability.
Carlisle's Newest & Best Golf Cart Tire is the Links Sport 18x8.50-8!
Carlisle is a strong American company that is the largest producer of specialty tires in the USA. Most of their products are also produced in the USA, making them a great choice. Simple put, Carlisle means quality. You can't go wrong when you choose a Carlisle.
Wheel not included