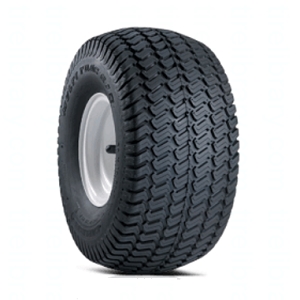 Wheel not included
Orders placed online usually ships within 24 hours
Product Description
Feel the Durability with the Multi-Trac C/S Mower by Carlisle
The Carlisle Multi-Trac C/S lawn and garden tire sports an extremely popular traction tread built for riding lawn mowers. It is also used on specialty equipment and utility vehicles. C/S stands for commercial service, which signifies a more durable tire. Carlisle's Multi-Trac C/S is the type of riding mower tire that commercial lawn care companies trust with the heavier sidewalls protecting against punctures and blowouts. Plus, the deeper tread makes sure you will get the job done without much harm to the grass.
This tire is bias ply and tubeless, but is not DOT approved. Keep off the streets (but we won't tell if you cruise around your driveway!)
Carlisle's Multi-Trac C/S Tire is available for any kind of riding mower
The Multi-Trac C/S is ideal for daily use in commercial mowing applications. That means this is a choice pick for use on fairways and with rough mowers at golf courses, football fields, baseball stadiums, and cemeteries. While this turf tire is designed to withstand the wear and tear of constant heavy-duty commercial use, its great traction on grass and long-life durability makes it an excellent choice for residential use where large lawns or big fields demand a serious mowing tire solution.
This tire will keep you going on the weekend at your "gentleman's" farm as you knock down grass and small trees at your "farm". This is the tire for you.
Carlisle Dependability, Durability, and Uniqueness
Carlisle is a strong American company that is the largest producer of specialty tires in the USA. Most of their products are also produced in the USA, making them a great domestic choice. Simple put, Carlisle means quality. You can't go wrong when you choose a Carlisle for your lawn mower!
Wheel not included
Sizes available: Small Tractor Tires Small Tractor Tire Riding Lawn Mower Tires Riding Lawn Mower Tire Carlisle 18x7.00-8 187008 187.008 18x700-8 18x10.50-10 18105010 1810.5010 18x1050-10 18x8.50-10 1885010 188.5010 18x850-10 18x8.50-8 188508 188.508 18x850-8 18x9.50-8 189508 189.508 18x950-8 20x10.00-10 20100010 2010.0010 20x1000-10 20x10.00-10 20100010 2010.0010 20x1000-10 20x8.00-8 208008 208.008 20x800-8 20x10.00-8 2010008 2010.008 20x1000-8 23x10.50-12 23105012 2310.5012 23x1050-12 23x8.50-12 2385012 238.5012 23x850-12 23x8.50-12 2385012 238.5012 23x850-12 23x9.50-12 2395012 239.5012 23x950-12 24x9.50-12 2495012 249.5012 24x950-12 24x12.00-12 24120012 2412.0012 24x1200-12 24x8.50-14 2485014 248.5014 24x850-14 25x8.50-14 2585014 258.5014 25x850-14 26x12.00-12 26120012 2612.0012 26x1200-12 26x12.00-12 26120012 2612.0012 26x1200-12 27x8.50-15 2785015 278.5015 27x850-15 27x8.50-15 2785015 278.5015 27x850-15 27x10.50-15 27105015 2710.5015 27x1050-15 29x12.50-15 29125015 2912.5015 29x1250-15 31x13.50-15 31135015 3113.5015 31x1350-15