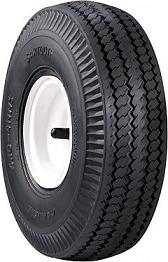 Wheel not included
Orders placed online usually ships within 24 hours
Product Description
Get Moving Again with the Carlisle Sawtooth Utility Tire
The Carlisle Sawtooth Utility Tire can be used on lawn and garden equipment, utility trailers or handcarts. The sawtooth tread design is meant for use on hard surfaces such as asphalt or concrete. This tread will last longer than a ribbed or turf saver tread. If for some reason you drive on grass with this tire, it will not cause much damage either.
That said, if you're looking for a great, durable utility tire, you should check out the Carlisle Sawtooth. Affordability and dependability are just some ways you can describe this innovative tire!
Get Serious Durability with Carlisle
The Carlisle Sawtooth will last longer than the ribbed or the turf saver because the sturdy sidewalls give it a longer life. That means you're getting added durability and strength, helping to ensure that you can keep your team on task when when they're on duty.
This tire is bias ply, tubeless and is not approved for highway use.
Wheel not included
Sizes available: Dolly & Hand Truck Tires Dolly & Hand Truck Tire Pressure Washer Tires Pressure Washer Tire Riding Lawn Mower Tires Riding Lawn Mower Tire Utility Cart Tires Utility Cart Tire Carlisle 4.10/3.50-4 410/3504 4.10/3.504 410/350-4 4.10/3.50-6 410/3506 4.10/3.506 410/350-6 4.80/4.00-8 480/4008 4.80/4.008 480/400-8