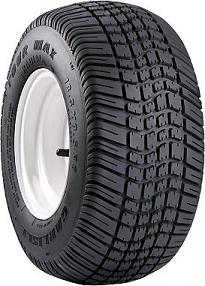 Wheel not included
Orders placed online usually ships within 24 hours
Product Description
Spice up Your Style with the Carlisle Tour Max Low Profile Golf Cart Tire
Looking to add a bit of flare to your cart without going over the top? A durable, slim low profile tire may be exactly what you need.

The Tour Max Golf Cart Tire is a 10-inch low-profile tire that helps add style to your cart without reducing dependability or durability. With a wider design, it actually provides increased stability and comfort to your cart! It often comes stock on newer carts, but it can be used on older carts that have been upgraded to a 10 inch wheel. Keep in mind that this tire comes in only one size, 205/50-10, which is ideal for EZ Go and Club Car models.
You Won't Dread the Tread on the Tour Max
Though the tread on the Carlisle Tour Max tire is designed for use on asphalt or concrete, it will not mark the grass on the golf course. On both terrains—the course and street—the Tour Max is quiet and provides a smooth ride with uncompromising handling.

This tire is bias ply and tubeless. It is DOT approved for use on streets in your neighborhood.
Carlisle Dependability, Durability, and Uniqueness
Carlisle is a strong American company that is the largest producer of specialty tires in the USA. Most of their products are also produced in the USA, making them a great domestic choice. Simple put, Carlisle means quality. You can't go wrong when you choose a Carlisle for your lawn mower!

Wheel not included

Sizes available: Golf Cart Tires Golf Cart Tire Carlisle 18.5x8.50R8 185850R8 18.58.50R8 185x850R8 205/50-10 205/5010 205/5010 205/50-10