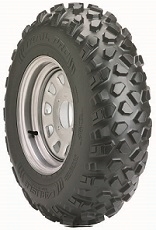 Wheel not included
Orders placed online usually ships within 24 hours
Product Description
Destroy Any Terrain with the Carlisle Black Rock ATV Tire
Are you ready for the newest ATV tire from Carlisle? The Black Rock will obliterate any terrain in its path, from the sloppiest rain-soaked mud to the downed logs in your way. Virtually any conditions are game when you're riding on Black Rock tires!
The Best Construction Makes the Black Rock the Best ATV Tire
Carlisle's Black Rock Tire power and agility is built in from the ground up, with aggressive angled tread cleats that are 3/4" deep, giving you the traction your ATV or UTV needs to handle anything you want to ride over. The Black Rock tire also features a built in rim guard to provide superior wheel lip protection in case any of those obstacles try to fight back. With a 6-ply rated build you can depend on this Carlisle ATV tire's strength and durability no matter the conditions.
The Carlisle Black Rock ATV/UTV Tire is made right here in the USA.
This is the tire only.
Sizes available: All Terrain Vehicles All Terrain Vehicle ATV/UTV & Side X Side Tires ATV/UTV & Side X Side Tire Carlisle 25x8.00-12 2580012 258.0012 25x800-12 25x10.00-12 25100012 2510.0012 25x1000-12 26x9.00-12 2690012 269.0012 26x900-12 26x11.00-12 26110012 2611.0012 26x1100-12 27x9.00-14 2790014 279.0014 27x900-14 27x11.00-14 27110014 2711.0014 27x1100-14