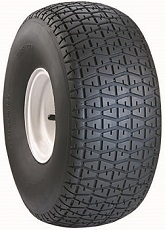 Wheel not included
Orders placed online usually ships within 24 hours
Product Description
Minimize Impact with the Carlisle Turf CTR 22x11.00-8
The last thing you want on your lawn are glaring streak marks. It takes away from the cut of the grass and too much compaction is potentially a deadly problem for your lawn. With that in mind, the Turf CTR Lawn and Garden Tire is designed to leave minimal compaction on grass. This tire is used on specialty equipment, lawn mowers and utility vehicles.
Keep in mind, though, that it is available in only the 22x11.00-8 size. This tire is very light and requires only 10PSI.
This is a tubeless bias ply tire for non-highway use only.
Carlisle Dependability, Durability, and Uniqueness
Carlisle is a strong American company that is the largest producer of specialty tires in the USA. Most of their products are also produced in the USA, making them a great domestic choice. Simple put, Carlisle means quality. You can't go wrong when you choose a Carlisle for your lawn mower!
Wheel not included