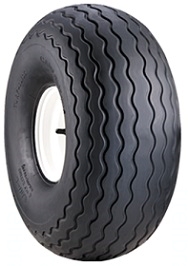 Wheel not included
Orders placed online usually ships within 24 hours
Product Description
Smooth Riding with the Turf Glide 8.00-6 Golf Cart Tire by Carlisile
Carlisle provides yet another great tire for your lawn! The Turf Glide easily makes its away over greens without wear and tear left behind. These smoothing rolling, ribbed tires are also applicable to other jobs, serving well as wide-floatation tire for heavy duty jobs and on-site transportation.
Note: the Turf Glide tire fits 3 wheel Golf Carts and other specialty equipment!
Carlisle Dependability, Durability, and Uniqueness
Carlisle is a strong American company that is the largest producer of specialty tires in the USA. Most of their products are also produced in the USA, making them a great domestic choice. Simple put, Carlisle means quality. You can't go wrong when you choose a Carlisle for your lawn mower!
Wheel not included