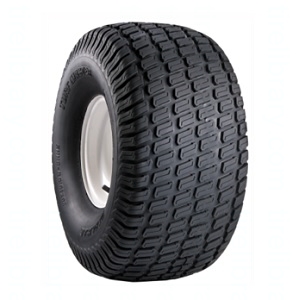 Wheel not included
Orders placed online usually ships within 24 hours
Product Description
Get Superior Traction and Durability with the Turf Master by Carlisle
Turf Master by Carlisle are the perfect choice if you're looking for tires with enough traction to make it up those hills, but without harming the grass below. Using rounded shoulder technology, the tires also provide great handling and maneuverability as you make your way around the course. These tires come in a number of different sizes, so a perfect fit for your cart or mover is never out of the question!
Get excellent traction while being kind to your turf!
Carlisle Dependability, Durability, and Uniqueness
Carlisle is a strong American company that is the largest producer of specialty tires in the USA. Most of their products are also produced in the USA, making them a great domestic choice. Simple put, Carlisle means quality. You can't go wrong when you choose a Carlisle for your lawn mower!
Wheel not included
Sizes available: Riding Lawn Mower Tires Riding Lawn Mower Tire Carlisle 13x6.50-6 136506 136.506 13x650-6 15x6.00-6 156006 156.006 15x600-6 15x6.50-8 156508 156.508 15x650-8 16x6.50-8 166508 166.508 16x650-8 16x7.50-8 167508 167.508 16x750-8 18x6.50-8 186508 186.508 18x650-8 18x8.50-8 188508 188.508 18x850-8 18x9.50-8 189508 189.508 18x950-8 20x10.00-10 20100010 2010.0010 20x1000-10 22x11.00-10 22110010 2211.0010 22x1100-10 22x9.50-12 2295012 229.5012 22x950-12 23x8.50-12 2385012 238.5012 23x850-12 23x10.50-12 23105012 2310.5012 23x1050-12 24x12.00-12 24120012 2412.0012 24x1200-12