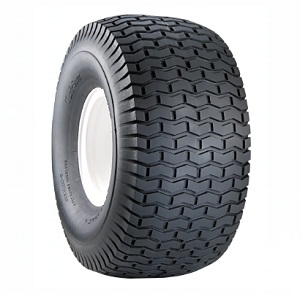 Wheel not included
Orders placed online usually ships within 24 hours
Product Description
The Carlisle Turf Saver is Perfect for Your Lawn and Garden
The Carlisle Turf Saver lawn and garden tire does just what it says: it saves the turf. If you want a durable, long wearing traction tire this is it. The Turf Saver's traction tread provides excellent grip and long wear with minor grass compaction. This makes it an excellent choice for average home lawn and garden applications!
However, if you are willing to give up some durability and are looking for minimal grass compaction, the Carlisle Turf Trac R/S does less damage to the grass. Otherwise, this tire will overcome any job you put in front of it!
Get the Industry Standard with Carlisle
Still not convinced this tire will be sure to please? Consider that many industrial manufactures equip their vehicles with theTurf Saver! That's right: the Turf Saver comes as original equipment on many lawn mowers built by John Deere, Toro, Jacobson and other riding mower manufacturers. It is one of Carlisle's most popular turf tread tires, and for good reason. Remember, the Carlisle Turf Saver saves your grass!
The Turf Saver is a bias ply, tubeless, non-DOT rated tire. If you plan to soup up your mower for the 4th of July lawn mower races, this is NOT the tire to race with.
The Turf Saver is available in 34 different sizes and ply ratings.
The 15x6-6 A Turf Saver Lawn & Garden Tire is our most popular Carlisle Turf Saver Tire.
Carlisle Dependability, Durability, and Uniqueness
Carlisle is a strong American company that is the largest producer of specialty tires in the USA. Most of their products are also produced in the USA, making them a great domestic choice. Simple put, Carlisle means quality. You can't go wrong when you choose a Carlisle for your lawn mower!
Wheel not included
Sizes available: Small Tractor Tires Small Tractor Tire Riding Lawn Mower Tires Riding Lawn Mower Tire Carlisle 11x4.00-4 114004 114.004 11x400-4 11x4.00-5 114005 114.005 11x400-5 13x5.00-6 135006 135.006 13x500-6 13x6.50-6 136506 136.506 13x650-6 15x6.00-6 156006 156.006 15x600-6 16x6.50-8 166508 166.508 16x650-8 16x6.50-8 166508 166.508 16x650-8 18x7.50-8 187508 187.508 18x750-8 4.10-4 4104 4.104 410-4 9x3.50-4 93504 93.504 9x350-4 4.80-8 4808 4.808 480-8 16x7.50-8 167508 167.508 16x750-8 18x6.50-8 186508 186.508 18x650-8 18x8.50-8 188508 188.508 18x850-8 18x9.50-8 189508 189.508 18x950-8 18x9.50-8 189508 189.508 18x950-8 20x8.00-8 208008 208.008 20x800-8 20x10.00-8 2010008 2010.008 20x1000-8 20x8.00-10 2080010 208.0010 20x800-10 20x10.00-10 20100010 2010.0010 20x1000-10 21x7.00-10 2170010 217.0010 21x700-10 22x9.50-12 2295012 229.5012 22x950-12 23x8.50-12 2385012 238.5012 23x850-12 23x9.50-12 2395012 239.5012 23x950-12 23x10.50-12 23105012 2310.5012 23x1050-12 24x12.00-12 24120012 2412.0012 24x1200-12