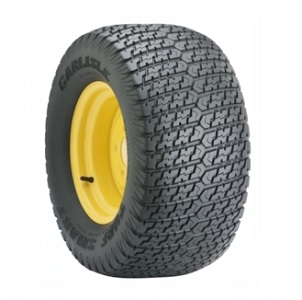 Wheel not included
Orders placed online usually ships within 24 hours
Product Description
Top of the Line Performance with the Carlisle Turf Smart Zero Turning Radius Lawn and Garden Tire
The new Turf Smart tire from Carlisle, is designed for use in heavy duty professional and consumer premium grade turf applications. The newly designed Turf Smart tire is targeted for riding mowers with zero turning radius or ZTR This tire is manufactured in the USA.
The Carlisle Turf Smart Zero Turning Radius Tire has a Groove Ejection System which enhances tread self cleaning between the tread elements to help deliver maximum traction power. The Turf Smart tire reduces the "crab walking" while mowing hillsides. The tire profile has been optimized to enlarge the contact patch where the tread meets the turf,. This increase in contact area improves traction weight distribution, allowing for maximum turf protection.
Carlisle's Newest & Best Lawn and Garden Tire is the Turf Smart Zero Turning Radius (ZTR)!
Carlisle is a strong American company that is the largest producer of specialty tires in the USA with it extended wear rubber compounding helps to deliver the durability that is vital to turf professionals.
Wheel not included
Sizes available: Small Tractor Tires Small Tractor Tire Riding Lawn Mower Tires Riding Lawn Mower Tire Carlisle 24x12.00-12 24120012 2412.0012 24x1200-12 24x9.50-12 2495012 249.5012 24x950-12 23X10.50-12 23105012 2310.5012 23X1050-12 23X9.50-12 2395012 239.5012 23X950-12 22X9.50-12 2295012 229.5012 22X950-12 20x10.00-8 2010008 2010.008 20x1000-8 20x10.00-10 20100010 2010.0010 20x1000-10 18x8.50-10 1885010 188.5010 18x850-10 18x8.50-8 188508 188.508 18x850-8