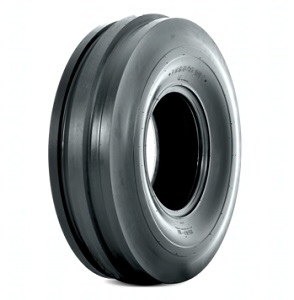 Wheel not included
Orders placed online usually ships within 24 hours
Product Description
Get back to work with the Deestone F-2 Tri-Rib Front Farm Tire
Getting back to work quicker is the name of the game on any farm. That means you need a dependable tire when your tractor suffers a puncture or pop. Get just this with the Deestone F-2 Tri-Rib Front Farm Tire.
The Deestone front farm tri-rib is both durable and dependable, and it works with many different applications. It can be used on front tractors, wagons, balers, spreaders and much more! The 3-rib tread has a high circumferential center rib designed for riding in the furrows, usually in row crop farming, making maneuverability a specialty of the F-2.
Performance Quality at Entry Level Cost with Deestone
The Deestone brand is manufactured in the Pacific Rim and imported to the US. It is a low cost, value driven alternative to higher priced original tires. Stock up on a performance level tire at an entry level price—don't be fooled by competitors!
Wheel not included
Sizes available: Small Tractor Tires Small Tractor Tire Farm Implement Tires Farm Implement Tire Deestone 5.00-15 50015 5.0015 500-15 7.50-16 75016 7.5016 750-16 10.00-16 100016 10.0016 1000-16 11.00-16 110016 11.0016 1100-16 4.00-19 40019 4.0019 400-19