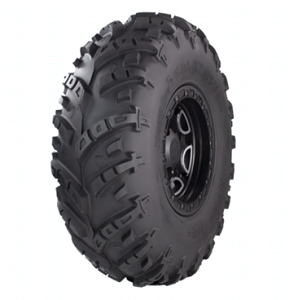 Wheel not included
Orders placed online usually ships within 24 hours
Product Description
Get an Aggressive Tread with the Greenball Spartacus ATV/Side-X-Side
When you go into the swamp or the mud or slop—whatever it is you want to call it—the Greenball Spartacus ATV/Side-X-Side will get you through it. The aggressive cleats cut into the mud to keep you moving. This radial tire delivers superior traction unlike many other tires. That means you'll be getting through bigger and badder messes with ease, staying on track and dominating the landscape!
The Greenball Spartacus has an 8-ply rating for durability and traction
The 8-ply rated carcass construction puts more rubber on the ground which creates a larger footprint and more comfortable ride. The 8-ply rating will help guard against cuts and bruises. This tire is tubeless and despite the fact it is a radial, it is not approved for highway use.
Wheel not included
Sizes available: ATV/UTV & Side X Side Tires ATV/UTV & Side X Side Tire Greenball 25x8.00R12 25800R12 258.00R12 25x800R12 25x10.00R12 251000R12 2510.00R12 25x1000R12 26x10.00R12 261000R12 2610.00R12 26x1000R12 26x12.00R12 261200R12 2612.00R12 26x1200R12 26x9.00R14 26900R14 269.00R14 26x900R14 26x11.00R14 261100R14 2611.00R14 26x1100R14