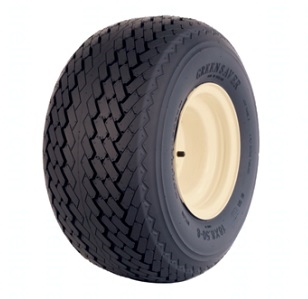 Wheel not included
Orders placed online usually ships within 24 hours
Product Description
The Greenball Greensaver DOT approved 18x8.50-8 Golf Cart Tire puts you on the highway
Not all carts will spend their entire lives on the green. That's why Greenball developed a Department of Transportation (DOT) approved golf cart tire. This dependable golf cart tire is entry level priced, making it a competitive choice for buyers looking to get the most out of their cart. With a sawtooth tread design, the tire is able to traverse through a variety of terrains without leaving marks or causes compaction.

This is a great replacement for carts used by EZ-Go, Club Car, Yamaha, and many others. It is also a replacement option for lawn tractors, mowers, and utility vehicles built by John Deere, Toro and Simplex. All in all, this tire provides an excellent choice for a number of applications, so stocking up is never a bad idea!
The Greenball Greensaver is approved by the DOT
The best part about this tire is that it is approved by the DOT. Built to more exacting specifications than non-DOT approved tires, the Greenball Greensaver is able to handle any terrain, be it grass or asphalt. This tire is bias-ply and tubeless. But remember, even with that DOT approval, no drag racing in your neighborhood!
You can get a deal on the Greenball Greensaver 18x8.50-8
The Greensaver is one of our most popular golf cart tires, and we're happy to pass on the savings we get for purchasing large quantities and offer them for much less than suggested retail.

Wheel not included