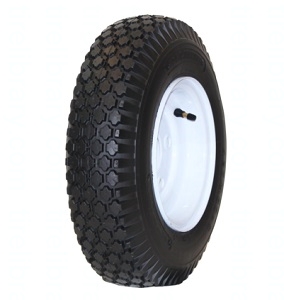 Wheel not included
Orders placed online usually ships within 24 hours
Product Description
Add Some Toughness with the Greenball Studded 4.80/4.00-8 Wheelbarrow Tire
The Greenball Studded 4.80/4.00-8 Lawn and Garden tire can be used on wheelbarrows, utility trucks or hand trucks. Greenball provides a less expensive alternative to the higher priced tires of the same size. This tire also offers a strong, dependable design that is sure to keep you and your team on track. Don't settle for tires that may result in lost money, time, or even injury!
The Greenball Studded 4.80/4.00-8 is tougher than a ribbed tread
If you are working where there are a lot of thorns or other things that tend to puncture tires, this studded tread helps to keep you right on track. It won't eliminate them totally, but will cut down on the number of flats. In the end, this can mean a lot of time and headaches are saved.
This tire is bias ply, tubeless and is not approved for highway use. No hand truck drag races on the freeway.
Wheel not included